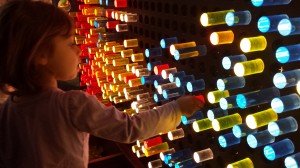 An environment speaks.  It sends messages that reflect what we value.   These messages, in turn, influence how others see us, how they feel and behave, and even what they believe.   Whether we are educators in a classroom or parents at home, we need to examine the messages our environment sends.  Do the messages reflect who we are and who we wish to be?  This kind of intentionality lies at the heart of education.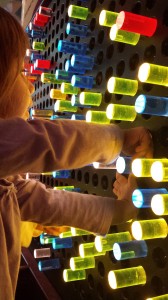 Space: Setting Up an Appropriate and Engaging Classroom
The way we set up a classroom deserves careful attention.  From the orientation of shelving, to the quality and display of materials, to the path of entry and flow of traffic – our space impacts us at many levels.  Our main concern needs to be modifying and creating a space that reflects our values and goals.
Space influences how we feel and think about ourselves.  Paint stored out of reach of young children may send an unintended message "I do not trust you with paint" or "I am not ready to give you that kind of independence".  Or, for example, a cozy area with pillows and curtains is likely to send a message: "This is your home, and you can relax and have quiet time when you need."
Space influences how we think and learn.  A classroom should be suited to the age, ability, and interest of all children.  It should be challenging, but not too challenging, for engagement is generally a function of an appropriate level of challenge.  Challenging behavior or disengagement may reflect an environment that is either too challenging or not challenging enough.
Space influences how we act and relate to others.  A classroom with a large common space or with large tables will encourage collaboration.  A classroom with photographs of the children interacting with one another will encourage and reinforce budding friendships.
When creating or modifying a space, there are seven basic considerations to keep in mind:
Arrangement (including location of areas and focal points)
Materials (including quality and organization)
Furnishings (shelves, tables, etc.)
Storage
Display & Documentation (use of walls and surfaces)
Beauty & Wonder (color, lighting, etc.)
A space that supports each child must, by definition, include a variety of materials and interest areas, including but not limited to the following:
Gross Motor/Movement
Science
Sensorial
Blocks and Building
Manipulatives
Dramatic Play
Reading & Listening
Writing
Math
Arts & Crafts
Music
Soft & Cozy
Outdoors
Snack
Time: Creating Classroom Routines that Support Learning
Coming soon.